Options - Option 07 85 Vac to 264 Vac RMS, 110 Vdc to 370 Vdc Terminal Power Strip (1088B)
Summary Information
Includes a terminal strip, without surge withstand. For Model 1088B
Full Description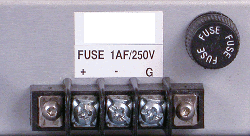 Replaces standard IEC-320 inlet with a dc terminal barrier strip. Available on the Model 1088B.
Specifications
Fuse
Type: Bussman GBD-1A
Current Rating: 1 Ampere, fast-acting.
Voltage Rating: 250 Volts.
Size: 5 mm x 20 mm
Input Power
AC Voltage Range: 85 Vac to 264 Vac.
Frequency Range: 47 Hz to 440 Hz.
DC Voltage Range: 110 Vdc to 350 Vdc.
BACK