Options - Option 33 Dual Internal Network Time Protocol (NTP) Server -DISCONTINUED-
Summary Information
Similar to Opt32, Opt33 has two identical and independent NTP servers. Available on Models 1088B, 1084 and 1093
Full Description
-DISCONTINUED-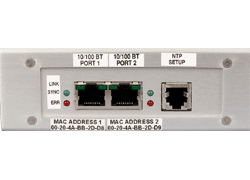 Dual Internal Network Time Protocol (NTP) Server, as installed on rear of chassis.
Option 33 is very similar to Option 32, however it has two identical and independent NTP servers (Port 1 and Port 2). Both options come with a six-foot phone cable and RJ-11 to DB-9F connector for connecting to the RS-232, or NTP Setup, port.
Option 32/33 allows the clock to act as time server over an Ethernet network using the network time protocol operating in server mode - symmetric operation modes are not supported. Time is distributed over the network interface to computers, controllers and other equipment needing the correct time. Option 32/33 understands NTP Version 1, Version 2, and Version 3 frames, and optionally supports authentication via DES and MD5 cryptographic checksums. If authentication is not used, the controller can typically be used for hundreds of clients without overloading it. Authentication requires typically 40 ms for checking and generating the cryptograms, which is covered and averaged out by the protocol. Option 32/33 supports full SNTP and all NTP functions required for reliable server operation. Functions not required for server operation are not implemented.
Specifications:
Performance:
Accuracy: Less than one microsecond, depending on network load and clock accuracy
Management: Serial and Telnet login
System Interface:
Network: Two (2) RJ45 (10/100Base-T)
Compatibility: Ethernet Version 2.0/IEEE 802.3
Protocols: IP-ARP, UDP, ICMP, SNMP, TCP, TFTP, NTP
Serial RS-232: 1200 baud to 19200 baud; 7 or 8 data bits; 1 or 2 stop bits; even/odd/no parity; RJ11 connector
Operator Interface:
Status LEDs: Synch (green), Fault (red), Link (green)
Setup: IP number, Net Mask, Gateway, UDP Broadcast parameters (port, interval, up to eight target addresses), MD5 and DES authentication keys are optional
BACK