Accessories - AS0079002 Universal Test Plug Current Shunt, B Phase Yellow
Summary Information
This shunt is compatible with ABB/Westinghouse™, GE™ FT, Superior™, Meter Devices™, and States™ series test jacks.
Full Description
The Universal Test Plug Shunt is our expertly engineered solution to customer requests for clamp-on CT access to series test jacks. Made with nickel-plated machined brass blades rather than stamped metal blades used by competitors and our super flexible #10 AWG fine strand, rope-lay conductors.
Available as individual phase labeled pairs or as a three-phase, three pair set.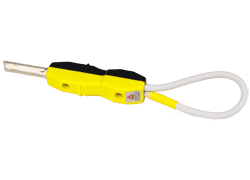 Universal Test Plug Current Shunt, B Phase Yellow
BACK