Accessories - 841A Series Test Jack Isolator Paddle
Summary Information
Orange thermoplastic insulator used to isolate the two blades of a series test jack for testing.
Full Description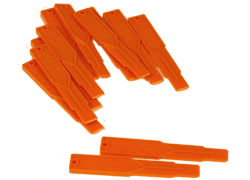 Series Test Jack Isolator Paddle
Insert this orange thermoplastic insulator into a series test jack (Superior™, ABB/Westinghouse™, GE™ FT, Superior™, Meter Devices™, or States™) to isolate the two blades of the jack for testing. Bright orange color for high visibility, even in poor lighting. Tough acetal resin has low coefficient of friction for easy use. Has a 5 mm (0.197 in) hole on the end for a key chain or cord.
Order Model 841A for a bag of 12 individual insulators.
Click here for specifications and part number configuration.
BACK