Options - Option 19 Out-of-lock Relay 1 Form C SPDT [1088B]
Summary Information
Adds a relay (Form C) and 3-pole terminal strip on the rear panel. Available on the Model 1088B, Slot B.
Full Description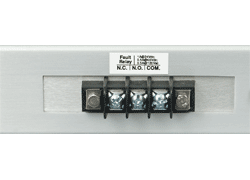 Out-of-lock Relay 1 Form C SPDT [1088B], as installed on rear of chassis.
Option 19 for the Model 1088B Satellite-Controlled Clock incorporates a fail-safe single-pole, double-throw (SPDT) relay into the Out-of-Lock function already available in the standard instrument. Relay activation is subject to the same user-configurable delay as the standard output; thus it will occur at the same moment as the logic-level Out-of-Lock signal from the rear panel (if so configured). Normally-open, normally-closed, and common connections are available at screw terminals on the rear panel. Available on the Model 1088B, Slot B.
Specifications
Relay Contacts
Type: Dry; gold-clad silver.
Contact Resistance: 60 milliohms
UL/CSA Ratings:

1 A @ 30 Vdc;
0.5 A @ 125 Vac
0.3 A @ 110 Vdc
Terminal Strip
Terminal Assignment: N.C./N.O./COM.left to right, viewed from rear.
Block Size: 49 mm W x 15 mm H x 16.5 mm D (1.9 in x 0.6 in x 0.6 in)
Block Material: Glass-filled thermoplastic.
Screw Size: 6-32 x
Screw Material: Cadmium-plated steel.
BACK