Options - Option 20 Fiber-Optic, Type ST 820 nm
Summary Information
Provides a selectable fiber-optic output with Type ST connector and 820 nm transmitter compatible with multimode fiber. Available on the Model 1084A/B/C.
Full Description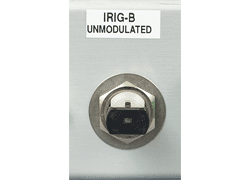 Fiber-Optic, Type ST 820 nm, as installed on rear of chassis.
Optical power output is -15 dBm minimum (-12 dBm typical) into 62.5/125 µm fiber. The transmitter is also usable with 50/125 µm, 100/140 µm, and 200 µm PCS fiber. Jumper selectable for 1 PPS, IRIG-B unmodulated or IRIG-B modified Manchester signals. Transmitter bandwidth is compatible with all available logic signals. The optical signal is ON whenever the selected logic signal is HIGH. The signal may be converted back to electrical format using the Model 10881A Fiber-Optic to Logic converter, available separately. Available on the Model 1084A/B/C.
BACK