Accessories - AS0077601 GPS Remote Receiver; DB15
Summary Information
For use with F6150 Doble Power System Simulator.
Full Description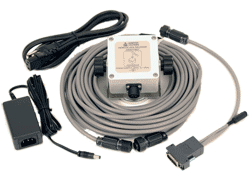 GPS Remote Receiver; DB15
This part number includes the power supply, power cable (P01 - P10) and adapter for Doble GPS port, as shown. It is typically used as a cost-effective alternative to synchronize end-to-end testing applications with the Doble F6150.
BACK